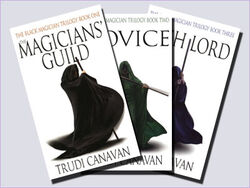 The Black Magician Trilogy follows a girl called Sonea who lives in the slums of Kyralia. Sonea's magical ability is revealed during a confrontation between the poor and the Magicians' Guild. Her life seems outside of her control from that moment on as she tries to understand what is going on. In her struggle to learn magic and find her place, she discovers a dark and terrifying secret at the heart of the Guild. It not only involves forbidden magic, but her friends in the city's underworld, and the very survival of Kyralia and the Allied Lands.
The three books are The Magicians' Guild, The Novice, and The High Lord.
Other articles which may be of interest;
Ad blocker interference detected!
Wikia is a free-to-use site that makes money from advertising. We have a modified experience for viewers using ad blockers

Wikia is not accessible if you've made further modifications. Remove the custom ad blocker rule(s) and the page will load as expected.